Please join us in thanking Supervisors Malia Cohen and Eric Mar for their leadership in shepherding strong Dignity Fund legislation to introduction May 24 at the San Francisco Board of Supervisors. They were joined at a press conference earlier in the day by Supervisor Campos and leaders of the Dignity Fund Coalition. Supervisors Yee and Avalos have also pledged their support as we move the legislation forward for a hearing at the Rules Committee later in June. The Dignity Fund will be a measure on the November 8th San Francisco ballot and will assure improved long term funding for senior and disability services and supports in San Francisco.
Funding levels for many services for seniors and adults with disabilities have not kept pace with population growth. Right now, people 60 and over represent 20% of San Francisco's population. Taken together with the number of adults with disabilties, that number is 25% and expected to grow to 30% by 2030. Many seniors and adults with disabilities are living on fixed incomes as the cost of living here continues to rise.
How can you help? Log onto the website www.sfdignityfund.org to learn more and to sign-up for regular email updates (and even make a donation to help with the campaign!) Over the com
ing month, we will be seeking additional organizational endorsements and expanding our outreach efforts. We need your help there as well.
The Dignity Fund Coalition is a broad coalition of San Francisco not-for-profit and community organizations and advocates that has come together to address the growing need for services for seniors, adults with disabilities, veterans, and those living with chronic illnesses, to ensure that San Francisco becomes a more aging and disability friendly place. It promotes independence through services and support that allow people to live at home while remaining connected to their communities.
Watch out for our June CLC Newsletter arriving early next week with more details about the legislation and the campaign ahead.
Cayuga Community Connectors was the first neighborhood to use Community Living Campaign's five new mini HP laptops for their Computers for Beginners workshop last week. Despite the rain storm, eleven seniors showed up at this pop-up computer lab to learn more about getting online. For many, this was the first time they had used a computer. As one of the participants explained, "I want to be part of what's happening now. I don't want to be left behind! My family is on the other side of the world. It's very important to me to know what's going on with them, and they are equally curious about how Grandma is doing."
Led by Cayuga Connector Patti Spaniak, participants started at Table One (green table cloth) and discussed the items they already know and are familiar with using – including radios, televisions, telephones, cameras, music, maps, newspapers, calculators, calendars, and recipes. They reminisced about everything from wireless radio to hearing and seeing a man on the moon.
The Cayuga neighbors then moved to Table 2 and started finding the same things on the computer. They especially enjoyed using YouTube to watch favorite shows and listen to old time music. And using Skype to talk with Patti's 89-year old mother in New Jersey – she went around the room and talked with each person on the computer face-to-face.
After a whirl around the web, seeing the scope of the Internet, one of the classmates exclaimed: "Now I know why people are always looking at their computers!"
The Computer for Beginners workshop will be meeting every Thursday in March at 1:00PM at Bethel Church, 2525 Alemany Blvd. For more information, please email Patti at patti@cayugaconnectors.org.
For computer classes in other neighborhoods, see the CLC Calendar. Community Technology Network, Self-Help for the Elderly, and Conard House also offer computer classes and support through San Francisco's SF Connected Program. To see a calendar of all free classes, or for more information, visit www.sfconnected.org.
Throughout San Francisco, dedicated neighbors volunteer their time to help seniors and people with disabilities get the resources and support they need to age and thrive in their own homes and neighborhoods. We will be featuring some of their stories each month.
Glenda has lived in San Francisco's Cayuga neighborhood for 45 years, but with her dedicated work as a Presbyterian minister and founder of SafeHouse in the Tenderloin, she hadn't had much time to get to know her neighbors. When she retired, she turned her energy and talents to increasing connections among her neighbors.  "I realized that I was going to retire, but that didn't mean I was going to sit in my house and retire from life," she said. "I looked around the neighborhood where I had lived for so long…and there were a lot of people living here who didn't know each other, including me, and I just though we should get to know each other."
Together with Patti Spaniak, Glenda and her neighbors have grown their intergenerational network to over 85 people. The Cayuga Community Connectors get together three times a week for senior exercise classes, hold potlucks and tag sales, bring in speakers on healthy aging, organize emergency preparedness workshops and supplies, and much more. They're doing what Glenda set out to do: "turning strangers into neighbors, and neighbors into friends."
Just recently, Glenda fell ill. A neighbor saw the ambulance and offered to ride with her. She ended up taking Glenda's dog to her home. Another neighbor started calling other Cayuga Connectors. Over the next two weeks, various neighbors sat with Glenda for hours in ER; visited in the hospital; did several loads of laundry; took turns caring for her dog; brought soup, pasta and special casserole dishes; drove Glenda to her follow-up doctor visit; organized a beautiful get well card from the exercise class; and accompanied her on walks as Glenda regained her strength. This is just the most recent example of Cayuga neighbors helping each other with little kindnesses that have a big impact. As Patti says, "Cayuga Connectors is working!"
Studies show that for people to age in their homes, about 20 percent of what they need comes from formal services. The other 80 percent comes from family, friends, and other community members. Fostering these supportive connections and friendships is at the heart of what the Community Living Campaign does. With all of our activities, our goal is to create opportunities for participants to strengthen the friendships and neighborhood supports they need to age and thrive in their own homes.
As CLC started planning for meetings and events  over the next few weeks, it became clear how much Super Bowl 50 may impact our work and travel plans.  So as a public service, we are passing along the information below provided by the Metropolitan Transit Agency (MTA). 
The Bay Area is hosting Super Bowl 50! While the game is in Santa Clara, nine days of activities leading up to the game will be in San Francisco. That means transportation impacts from January 23 to February 12. Whether you're visiting, working or a resident, plan ahead, pack your patience and take transit, bike or walk where you need to go.
About Super Bowl 50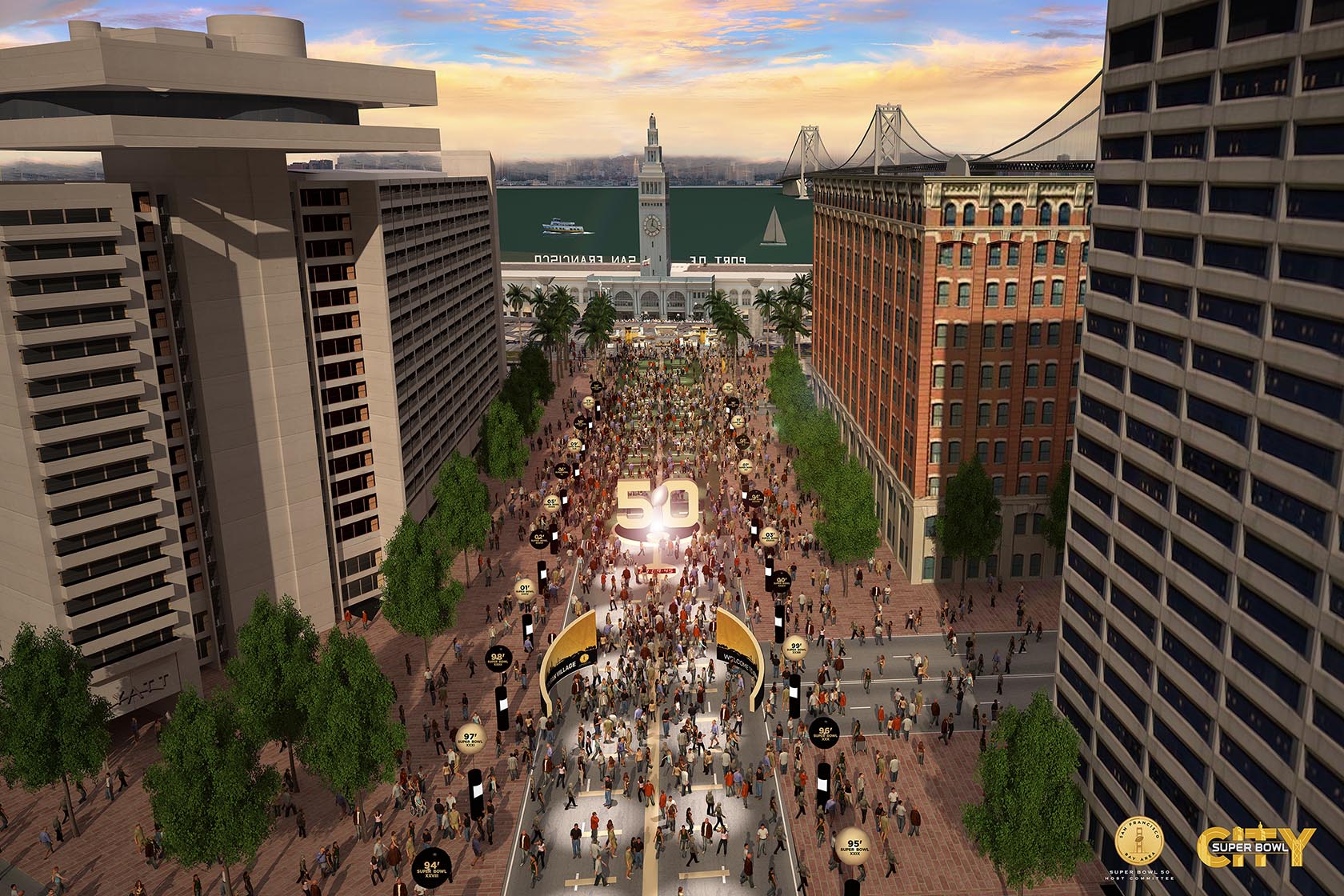 San Francisco activity revolves around two events:
With set-up and take-down, transportation impacts may extend from January 23 – February 12, with these dates subject to change.
Visit sfbaysuperbowl.com for information on Super Bowl City, the Super Bowl 50 Host Committee's free public fan village in San Francisco, or information related to Super Bowl Week activities happening January 30 through February 7, 2016. The Super Bowl 50 game will be at Levi's® Stadium in Santa Clara on Sunday, February 7.
We are working closely with the Super Bowl 50 Host Committee and our regional transit partners to ensure that commuters, visitors and locals can get where they need to go as safely and as easily as possible.
Stay Up-to-Date
Many agencies and departments are working hard to finalize the transportation details for this exciting event. Make sure you have access to the latest information.
Sign up to get updates sent directly to your inbox.
What's your usual travel mode? Jump straight to that section:
Follow our blog, MovingSF, for regular in-depth updates and to leave comments or questions. 
Follow us on Twitter: @sfmta_muni
Visit sfgov.org/sb50 San Francisco's landing page for event info and resources.
Bookmark 511.org for regional trip planning.
Register for AlertSF, San Francisco's official text message and e-mail alert system for emergencies or disruptions. Register by texting "AlertSF" to 888-777 from your mobile device a or visiting AlertSF.org.
For more details, visit https://www.sfmta.com/sb50.
Throughout San Francisco, dedicated neighbors volunteer their time to help seniors and people with disabilities get the resources and support they need to age and thrive in their own homes and neighborhoods. We will be featuring some of their stories in our newsletter each month.
Michael and his sister Megan have been delivering healthy groceries to participants in CLC's Park Merced/University Park food network since 2010. Michael enjoys the personal connections he's made with participants—and adds, "it's more than a food delivery – we become part of each other's lives. We share the joys and frustrations of life."
Megan describes what a big difference the groceries make for the participants. When they delivered a special holiday turkey and fixings from Glide Memorial Church to one resident, "…he gazed upon the food-laden cart we pushed up to his apartment, he clasped his hands together, looked up toward heaven, and mouthed, 'Thank you, God.' His countenance changed as he animatedly explained that his family would be eating well for days to come."
Carlos came to SF as a teenager from Lima, Peru. He has been packing and delivering groceries in the Parkmerced/University Park food network program for the past several years. One of his favorite delivery stops is a special Grandmother who cooks for every member of her family, grand children and great grandchildren—-she's always cooking. "She feeds everybody," Carlos shared. "If we ever having anything extra, I'm sure to give it to her." Carlos's caring smile along with the pantry goods makes every delivery extra special.
Make 2016 the year you volunteer or get involved in your community. Chances are good you will change someone's life for the better—starting with your own! For more information about volunteer opportunities, email us at info@sfcommunityliving.org.